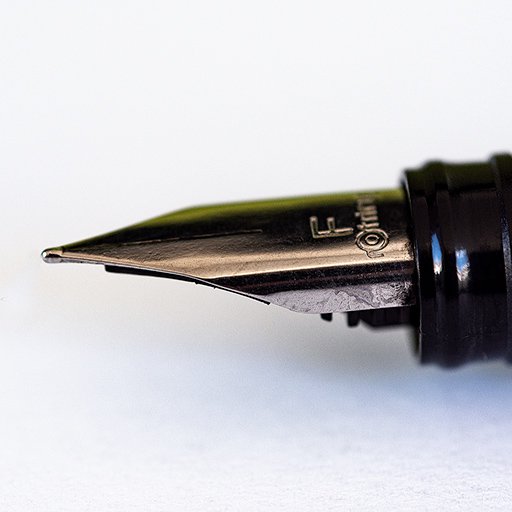 The Rotring Art Pen is, to all intents and purposes, a fountain pen that's intended for drawing and sketching.
When drawing, I look for a pen that has a smooth and reliable ink flow, preferably no leakage (leading to unwanted blobs on the paper) and that's comfortable to hold for long periods.
Let's take a look at the Art Pen and see how useful as an artistic tool.
The pen
The Art Pen is a standard fountain pen, mostly made of black plastic with a stainless steel nib.

At 18cm in length, it's not as short as many fountain pens (shown here with a Lamy Safari), tapering off to a narrow rounded end which sits quite comfortably in the hand. I'm not sure if they were trying to emulate the look and feel of a dip pen but that's what sprang to mind when I was using it. The length is not really a problem unless you normally took your pens in a small box or pocket.
The cap just clicks on and off – there's no secure screw mechanism but I've never had it come off accidentally and there's a fair degree of travel before it clicks into place so I can't imagine there'd ever be a risk of unexpected removal.
One thing that's quite surprising is how narrow the majority of the pen is. Again, I suspect this was to model the pen on dip pens or quills but that main body of the pen (the bit you hold) is a comfortable 10mm in diameter so it's wide enough where it matters.
There's a number of different nibs available in the ArtPen range. For the purposes of doodling and sketching I recommend either the fine or the extra-fine nibs. The other nib sizes and shapes are more suited to calligraphy than drawing (although I am curious about the bold nib).
Ink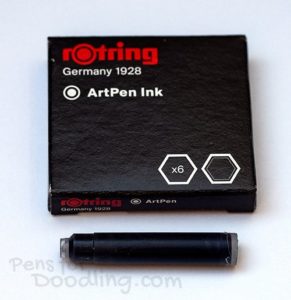 The pen comes with one single cartridge and it's not very large either – so if you're planning on using a lot of ink you'd be well advised to make sure you order some additional cartridges (they come in boxes of six) or the optional converter that uses a screw-fitting to refill it from a bottle of ink.
Speaking of ink – Rotring advise that you don't use their Isograph ink for the Art Pen. Presumably this is because the fine particles in the drawing ink would clog the capillary feed. Instead, you should use the official Art Pen cartridges or any other ink designed for fountain pen use
The 'official' Art Pen cartridge contains a water-soluble ink. This is a mixed blessing. For those that like to use water to add more tonal range to their ink drawings that's a bonus. For those that like to use watercolors after laying down links, it's not as the wash will cause the lines to run.
See the test doodles below to see how easily the dried ink is lifted with a wet brush.
Ink flow
I had no problems with the quality of the ink flow. It was smooth and consistent, even with rapid strokes and hatching.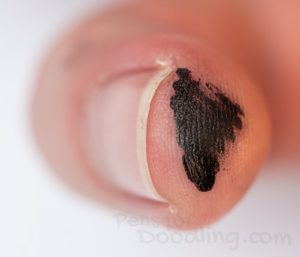 If anything, the ink probably flows a little too well – by the end of my test doodle, I had an unexpected inky patch on the end of one of my fingers and I noticed that rapid strokes drawn without care will result in a more noticeable hook mark than other pens that I use. To be fair, this is more down to the user than the pen and was easily avoided when the strokes were made with more attention.
Line performance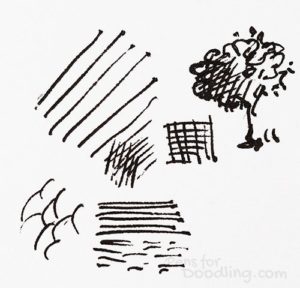 I was able to lay down lines with no unexpected breaks due to ink flow issues. I did find that broken lines were a little more challenging draw because the ink flowed so readily but again, this is something to get used to rather than a fault with the pen. I'd rather have reliable ink flow.
Line width variance was pleasingly simple – a slight turn of the nib produced a noticeable change in stroke size and I'm looking forward to putting the Art Pen through its paces on a larger test piece. You can see this in the foliage of my tree doodle.
Hatching and shading
I had no problems with hatching (other than the already mentioned hook marks if I wasn't careful) and the smooth flow of the ink made shading a joy. Lines were consistently strong and unbroken and the width was easily controlled as required.
The amount of ink flow may prove limiting for closely-spaced hatching as I noticed a trough of ink forming – in a cold room, this may spread, reducing the white space between the lines but this is behavior to become accustomed to rather than an issue. It certainly offers plenty of ink to work a wet brush into!
Price and value
At just over the price of a decent pizza, it's not an expensive pen.
It certainly didn't feel cheap in use and produces excellent results.
Ink cartridges are available in boxes of six and are surprisingly inexpensive for branded cartridges. The ArtPen will also accept standard-sized ink cartridges if you don't want to pay for Rotring's own brand.
The converter (basically a refillable ink cartridge that uses a screw mechanism to draw up the ink) can be purchased for and costs the same as two or three boxes of ink cartidges.
Sample doodles
To try the pen out with different line widths and shading, I doodled a thumbnail sketch of a tree growing out of a boulder. I was surprised at how easily the ink flowed and the amount I could vary the line width with only a slight turn of the barrel.
I added some water after the initial drawing had dried to see how much the lines were affected by a wet brush. As you can see, adding water had a huge impact, offering some fabulous creative opportunities if you're interested in creating monochromatic pieces. Obviously this rules the Art Pen out if you use watercolor washes. Perhaps using the converter with a fountain-pen safe waterproof ink may offer a solution for watercolorists.
Conclusion
I really like the Rotring Art Pen. I wasn't sure that I'd like the length of it but once I was working with the pen, I forgot all about it. The weight is pleasant – it's barely there at all but heavy enough to use comfortably. I'd like to give it a try on a full-size A4 piece to see how taxing it might be over an extended period. Once I do so, I'll update this review accordingly but I don't expect it to be an issue.
In my opinion, this is an excellent pen for drawing and sketching that offers some wonderful opportunities for adding controlled washes on suitable paper (as long as you're careful to avoid the lines you want to keep). Adding the optional converter extends those opportunities as you can then use a much wider range of inks to suit your creative urges.