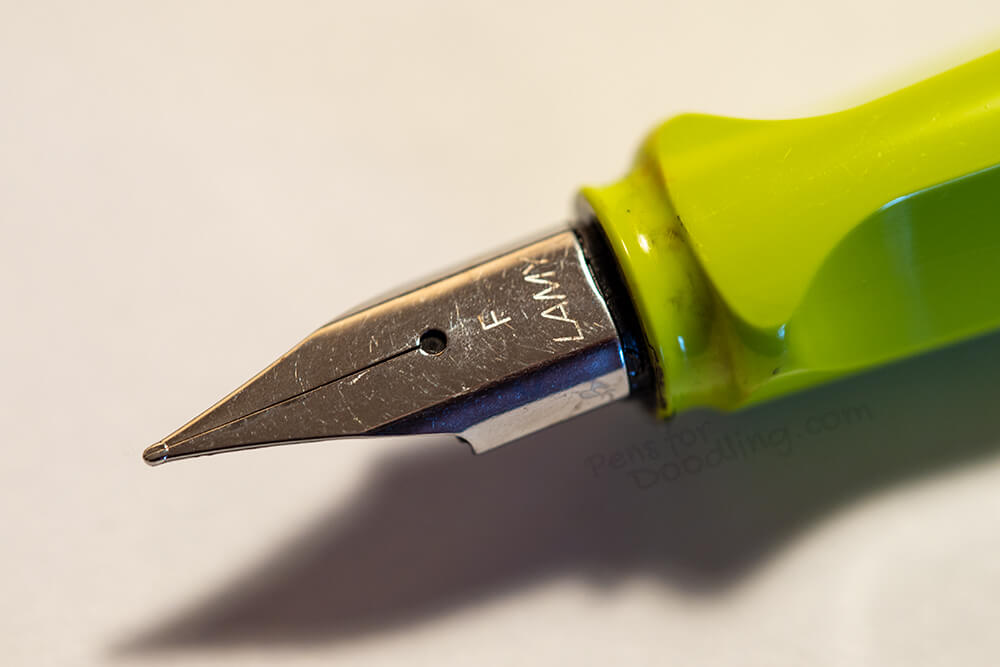 The Lamy Safari is a fountain pen intended for general use as a writing implement. I'm not sure if Lamy ever imagined when they created it, how popular it would become in sketching communities. In this review I'm going to take a detailed look at the Lamy Safari, evaluate its strengths and weaknesses and assess its value as a doodling and sketching tool.
The pen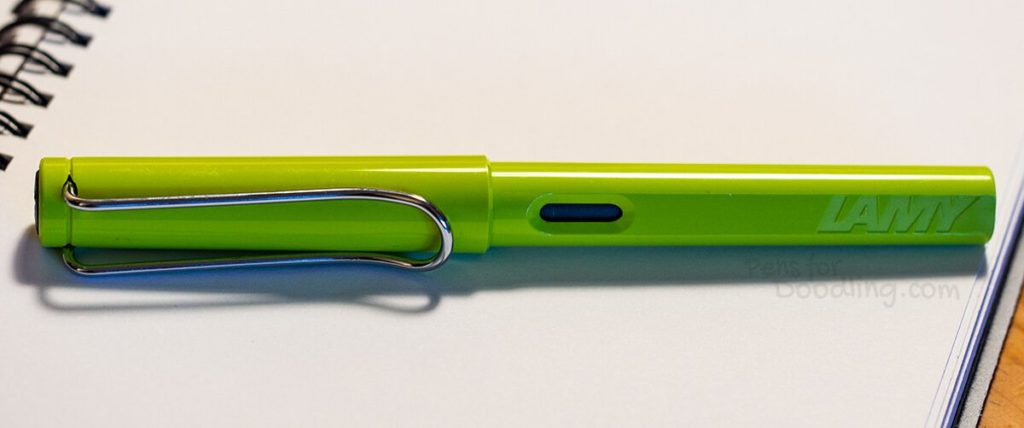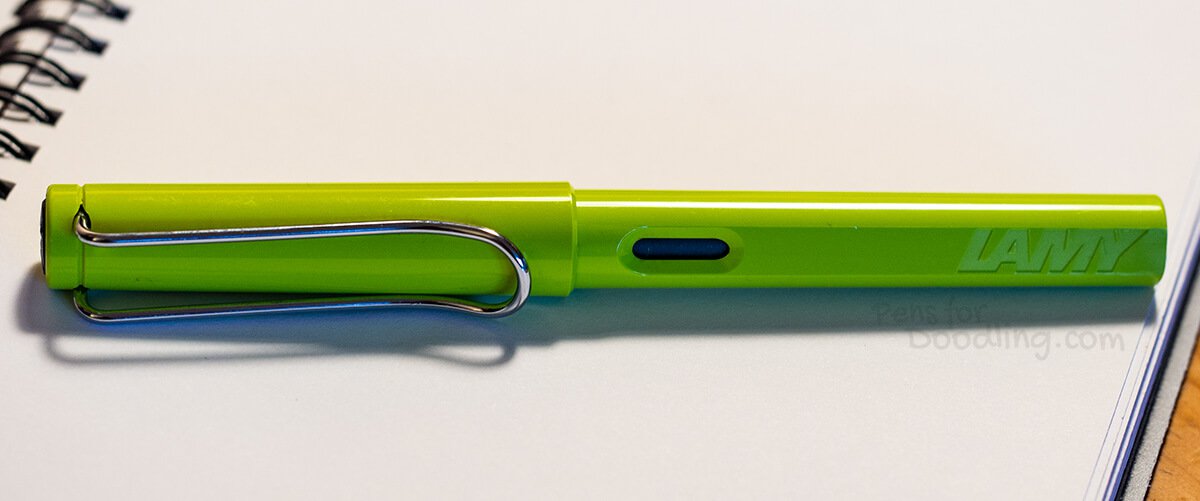 The Lamy Safari is quite a chunky pen constructed almost completely from ABS plastic, except for the stainless steel nib and the pocket clip on the cap. The plastic is smooth and has a solid feel to it. It's not as thin and flimsy as some pens feel but is still light in the hand. For comparison, LEGO bricks are made from the same kind of plastic.
It's comfortable to hold with the smooth barrel resting comfortable on the span between the finger and thumb. There is a strong indentation on the section of the barrel that you grip with your finger and thumb which I found to offer an increased feeling of control in use. I might be wrong but I also think it might help to mitigate grip fatigue during long sketching sessions. I certainly enjoyed hatching with the pen when drawing the tree in the sample images below.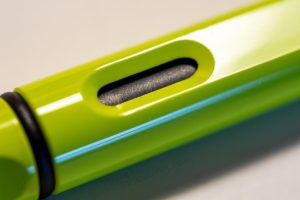 There's a narrow window in the barrel that enables you to see if your ink cartridge is empty. I have to be honest, I never used it, relying on the inconvenient sudden lack of flow as a sign I needed to change the cartridge.
The cap clicks into place with what feels like a solid sort of sound. I can't imagine it coming loose in a bag or a pocket but there is always that possibility in non-screw caps. Personally I prefer a click-top to a screw fitting as it's slightly more convenient to get on and off.
It's probably important to note that the Lamy Safari brand refers to the design aesthetic of the range which includes ballpoint pens, roller balls, pencils and fountain pens. This review is solely about the fountain pen.
The fountain pen is available in a range of eight colors with the occasional limited edition release (such as the Lime Green edition that I'm reviewing here). In my opinion, the color of the barrel has little bearing on the suitability of the pen as a drawing tool but I did once have a discussion with an artist who swore that he found colored barrels distracting when they were sketching. If you prefer a transparent option, the Lamy Vista (note Vista, not Safari) is the same pen but it's made of clear plastic.
Lamy, being a German company, place a strong emphasis on the strength of their design and construction. They also pride themselves on not creating disposable products. I know I have no intention of throwing this pen away and I'll explain why in a moment.
Ink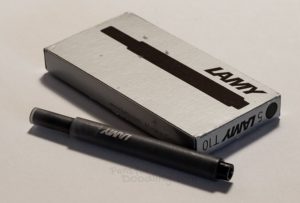 The Safari comes with one single proprietary cartridge (Lamy call it a T10). As with any other fountain pen that only comes with a single cartridge, I strongly recommend that you either buy it with some additional cartridges or invest in the optional converter so that you can use bottled inks. One cartridge lasts for quite a while, even with plenty of hatching work but there's nothing worse than running out of ink when you're in the zone.
The ink in the standard cartridge is pleasantly black but remember it is water-soluble. This is ideal for those that want to add washes to their lines to extend the tonal range but it's a big no-no if you want to add watercolors to your lines.
I found there was a slight annoyance in the tapered form factor of the cartridges. There was a tendency for a cache of ink to get trapped in the narrow end of the cartridge and I had to unscrew the pen and flick the end of the cartridge to encourage the ink to flow down. I paid good money for that ink. I wasn't about to throw it away in the spent cartridge! 😉

That's where the converter comes in handy. You can use a range of fountain-pen safe waterproof inks that enable you to add washes to your heart's content but bear in mind this adds the cost of the converter and the appropriate inks to your purchase. The converter operates as a screw-piston refillable cartridge. You twist the end to draw ink up into the converter from a bottle.
Ink flow & line performance
Ink flow proved to be smooth and reliable. Not once, during my testing, did the nib let me down. My test drawing of an old tree trunk had lots of hatching involved and not once did I have any problems while rendering the lines.

The nib had very little flex in it, resisting any attempt to produce any kind of line variance. While this does ensure that you'll get a consistent line width when drawing with the Safari, it does remove the option of varying the line width to represent mass and shadow in your drawings. The nib being reviewed is the fine nib. I'm not sure if the medium nib may offer more variance. If I get the chance to test one, I'll update this review.
So, in short, ink flowed readily when drawing and offered a consistent line width but there was little or no opportunity to vary the stroke size due to the stiffness of the nib.
I managed an entire hour of hatching without any inky marks on my fingers which is a bonus.
Hatching & shading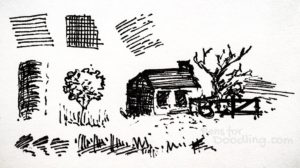 Hatching proved to be a joy with the Lamy Safari. The stiff nib offered a consistent line width and flow of ink, with no skipping or catching on the smooth cartridge paper that I was drawing on. The tonal hatches that I created again showed consistency and that the pen can probably handle any pen and ink work you care to try.
I found the barrel grip indentations offered additional control when performing both tonal and form hatching. Contour hatching felt extremely comfortable, without any problems.
Perhaps subjective but I think I'd have preferred the pen to be slightly heavier at times but that didn't detract from the pleasure of working with the Lamy Safari.
Price & value
The Lamy Safari is relatively inexpensive for a quality fountain pen, the black one usually being cheaper than the brighter colors. It's a solidly constructed pen that should offer years of use, even if you're heavy-handed. The results were excellent and consistent.
Lamy T10 cartridges are available in boxes of 5 but expect to pay more than you would for universal cartridges.
I recommend that you get the converter so that you can use bottled inks with the pen. You must buy Lamy's own proprietary converter as universal converters won't fit in the pen.
The Z24 converter usually costs just a bit more than a box of ink cartridges.
Sample Images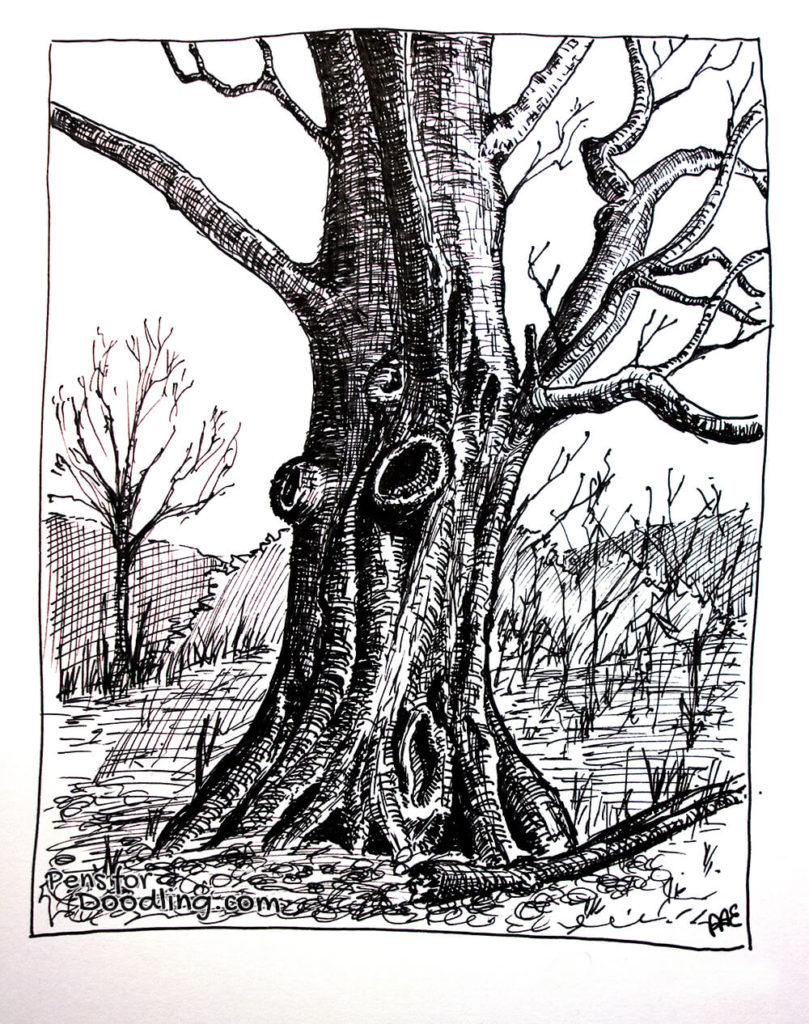 Conclusion
I love the Lamy Safari. It's going to be my new go-to pen for general sketching and doodling.
I found it extremely comfortable to use, and I love the vibrant green of the barrel. Granted, the lime green is a limited edition run from 2015 but it's still available if you care to spend a little extra for it.
The width felt just right my hand. I have big hands so I'm not sure if it would be as comfortable to use in a smaller hand but I can't imagine that there'd be an issue. Apparently the Safari was originally designed for school children to learn cursive writing in European schools.
Ink cartridge life proved to be satisfactory although the pooling of ink in the tapered end proved to be a minor irritant. As I'll be using the converter in the future, that will no longer be an issue for me.
All in all, I found the Lamy Safari produced excellent results and I thoroughly enjoyed working with it.